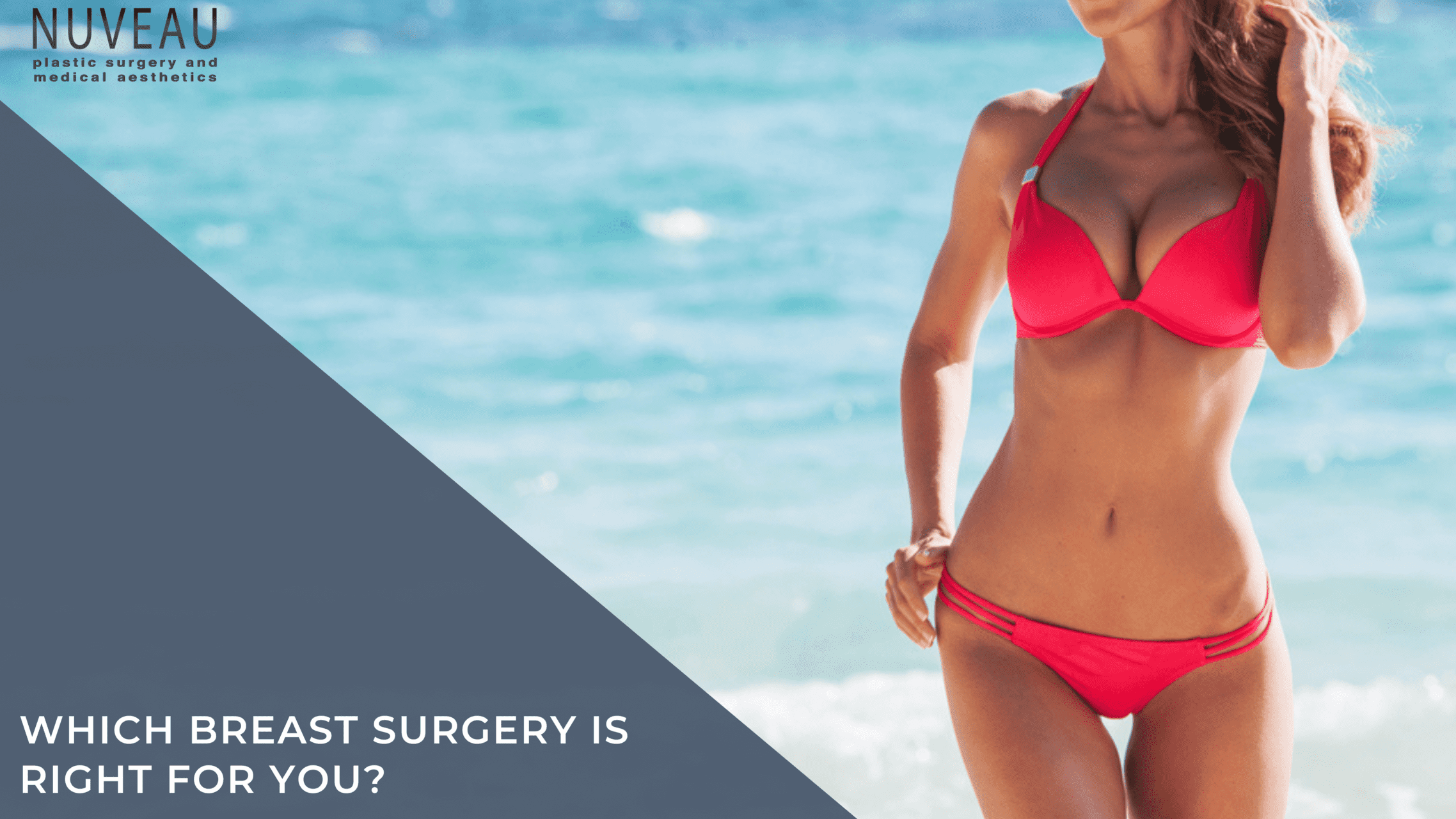 Just like our bodies, breasts come in various shapes and sizes. Often, women find themselves interested in breast augmentation, breast lift, breast reduction or a combination of these procedures at different stages of their lives. In addition, in women who have had breast surgery, a revision surgery may be required years down the road as their bodies change over time. There are several different procedures available when it comes to cosmetic breast procedures and it can be challenging to determine which one would be best for you.
We have outlined several options below for you as you consider which breast surgery is right for you.
Breast lift / Mastopexy– If you notice some laxity in the skin of your breasts or your nipples are pointing towards the floor positioned below, a breast lift (also known as mastopexy) can help address these concerns. It involves making an incision on the breast, shaping and elevating the position of your breast tissue, removing excess skin, and repositioning the nipple to appropriate height. It is an effective cosmetic plastic surgery in Houston, TX as the results are visible right after the surgery. You can also add volume to your breasts at the time of the breast lift using either implants or your own fat as a part of the procedure. However, it is important to note that your breasts can become saggy again even after surgery if you experience weight fluctuations such as from pregnancy.
Breast reduction– You might be experiencing chronic back, neck, or shoulder pain due to large breasts. Therefore, you may want to make your breasts smaller to get relief from the pain or make them look more proportional compared to other body parts.
Breast reductions involve extracting excess fat, skin, and tissue from the breasts. It is similar to breast lift but more volume (breast tissue and skin) is removed in breast reduction.
Breast augmentation with implants- Augmentation with silicone or saline implants may be the best solution for you if you want to enlarge your breasts. However, you must consider various factors, like the size, type, and shape of the implants, their position in the chest area, and the desired treatment area. Your surgeon will help you make these decisions by analyzing your lifestyle, body shape, and overall goals.
Fat transfer breast augmentation- Traditional breast implants may not work for everyone; therefore, you should also consider fat transfer breast augmentation. If you want a subtle increase in your breast size, this procedure is ideal for you.
Fat transfers use a popular fat reduction surgery called tumescent liposuction. It removes fat from stubborn pockets on the body — usually the abdomen, flanks, or thighs. Then, the surgeon will purify the fat and carefully re-inject it into your breasts in layers to sculpt the shape you requested.
Breast augmentation WITH breast lift / mastopexy- Breast augmentation can be combined with breast lift to both reposition and lift the breast as well as enhance the volume of the breast. Breast augmentation alone is not a good option if your breasts are saggy. Putting an implant into a saggy breast without addressing this issue will make the sagginess worse. In such cases, a combination of both procedures is recommended.
Revision breast surgery- As your body continues to go through changes with time, your breasts will change as well. Eventually, you may need to revisit these procedures if your breasts become saggy again and/or if they do not look like they used to. In such cases, another breast lift may be required with or without breast augmentation. If you have had breast augmentation, then you may need to change out the breast implants or you may need lift the breast tissue so that it is elevated to an appropriate position over the implant.
ABOUT NUVEAU PLASTIC SURGERY & MEDICAL AESTHETICS
Always look for reliable plastic surgeons in Houston to discuss which of the above-mentioned treatments is best for you. At Nuveau Plastic Surgery & Medical Aesthetics, we offer a full range of services, including facelifts, blepharoplasty, breast augmentation and lifts, liposuction, tummy tuck, Brazilian butt lift, mommy makeovers, and Botox & fillers. Our team of experts includes Dr. Edward Lee, a highly trained board-certified plastic and reconstructive surgeon. We aim to make all our patients feel comfortable, confident, and at ease. Contact us at 713-999-1321 or schedule an appointment for more information.