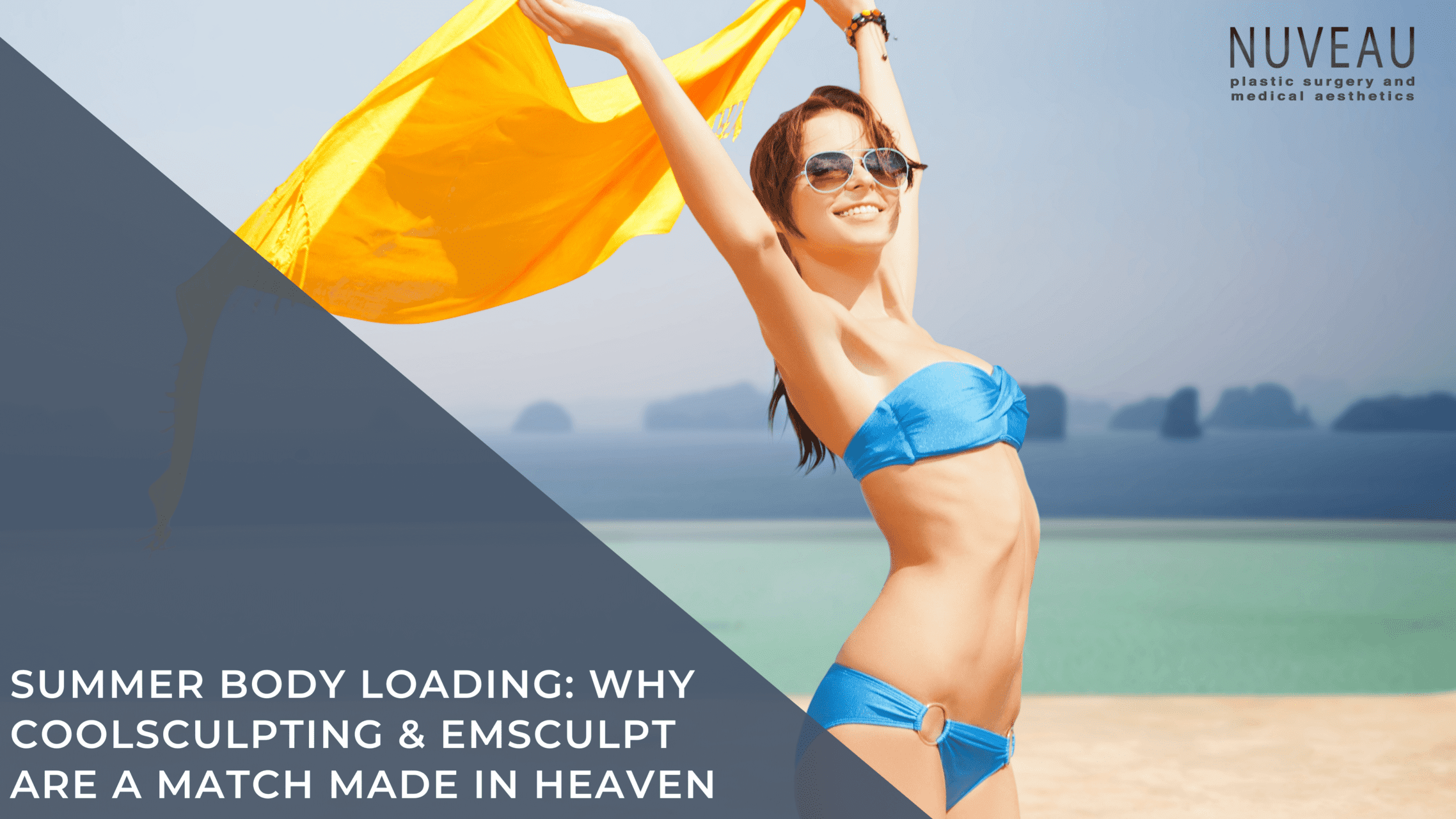 With the swimsuit season approaching, you may be stressed and frustrated about not having the perfect summer body. There are various body contouring treatments out there, Coolsculpting and Emsculpt being the most popular ones.
Below, we have discussed these two treatments in detail and the benefits of combining them!
WHAT IS COOLSCULPTING?
Coolsculpting is a non-invasive treatment that eliminates the fat cells in your body by precisely cooling them in a controlled manner without damaging your skin or surrounding tissues. This process causes the fat cells to die and then your body naturally removes them as waste through your lymphatic system.
Coolsculpting does not require any downtime, which means you can return to your normal routine right after the treatment.
During the treatment, our team will attach applicators to the targeted areas. You will experience minimal discomfort, like tingling and pulling, when the treatment area starts to cool down.
After the treatment, you will start noticing results slowly and gradually as the fat cells die. Since the changes do not show up overnight, they will appear to be the result of your own efforts instead of aesthetic treatment.
WHAT IS EMSCULPT?
Emsculpt is a nonsurgical procedure for body contouring. It is the only treatment cleared by the FDA to build muscle and burn body fat. It increases forced muscle contractions using high-intensity focused electromagnetic energy, leading to fat reduction and muscle building.
If you have a BMI of less than 25 and are not an eligible candidate for other fat reduction treatments, EmSculpt is a great option.
You can undergo this treatment for nonsurgical buttocks augmentation and diastasis recti treatment. It will also tone your abdominal, buttock, tricep, bicep and leg muscles without heavy exercising. During the procedure, you might feel some slight discomfort, however, you are able to resume normal activities immediately following your treatment.
COMBINING EMSCULPT AND COOLSCULPTING
Coolsculpting is beneficial to reduce fat in several different areas of the body. However, if you combine it with Emsculpt and treat body parts simultaneously, you will get faster results. Moreover, combination therapies have been proven to provide optimal results.
BENEFITS OF COMBINING THESE TREATMENTS
Combining the right treatments, such as Coolsculpting and Emsculpt, can help you get more successful results. Following are the benefits of combining these treatments:
Results that complement each other
Unwanted fat removal can surely help you achieve your dream summer body. However, most treatments make the targeted areas smaller but don't build the underlying muscle fibers. When you combine Coolsculpting and EmSculpt, you will get toned muscles and reduced-fat, giving you more comprehensive results.
Refining one treatment's results with another
The right expertise in these two treatments will help optimize your treatment process. It will give more refined results, making the results look natural and not surgical.
ABOUT NUVEAU PLASTIC SURGERY & MEDICAL AESTHETICS
Combining Coolsculpting and EmSculpt will help you achieve that perfect summer body. At Nuveau Plastic Surgery & Medical Aesthetics, we transform the lives of our clients with our surgical and nonsurgical cosmetic treatments. Our clients choose us because of our team of trained professionals and high-rated services. You can call us at 713-999-1321 to schedule an appointment for more information about Emsculpt and Coolsculpting treatment in Houston, Tx.