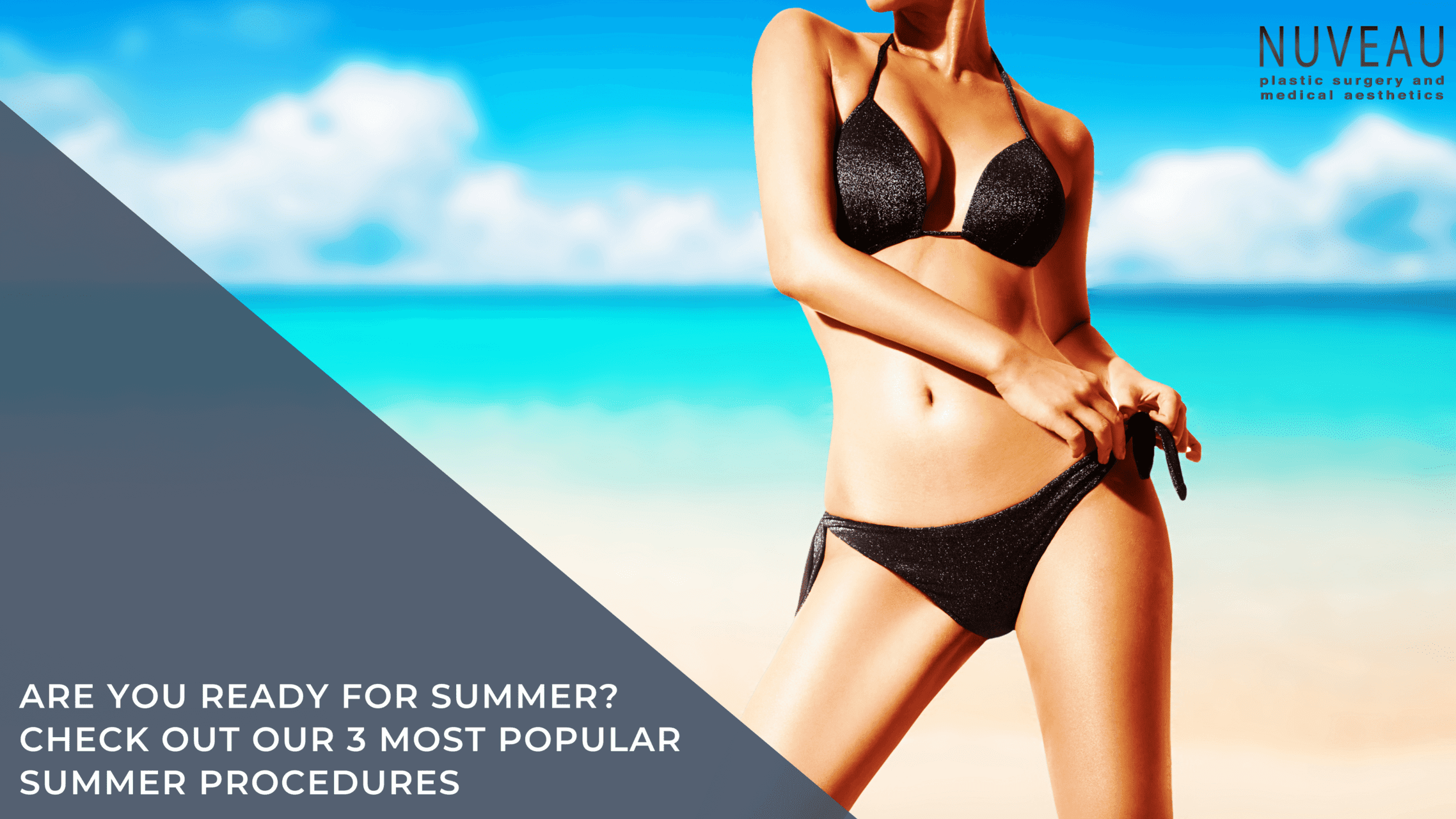 Summer is all about those long days filled with sunshine, pool parties, backyard barbeques, and swimsuit shopping. It is usually a time to relax and have fun with family and friends under the sun. Getting your summer body ready does not need to be complicated and we are here to help!
Below, we have listed the best plastic surgery procedures for getting your body summer ready!
1. SCULPTRA
Sculptra is a biocompatible, injectable filler made of poly-L-lactic acid (PLLA). It is injected into the deep layer of the skin where collagen naturally exists. It works by initially filling a wrinkle with small PLLA beads. As the beads biodegrade, they stimulate the body to produce new collagen where the Sculptra is injected. Sculptra is used to fill wrinkles; such as nasolabial folds and marionette lines. It can also be used to restore the volume in the cheeks and temples that is lost due to the aging process.
2. BODY SCULPTING
Body sculpting is a procedure effective at removing or reducing stubborn fat. It is also called a non-surgical fat reduction process and will help to shape and contour your body. However, remember that it is not a weight loss solution. It is ideal only if you have attained the desired weight and wish to get rid of stubborn fat. There are several different body sculpting options. CoolSculpting eliminates unwanted fat by freezing the fat through the surface of the skin. That fat is then naturally eliminated by your lymphatic system as waste. Emsculpt simulates muscle contractions and builds muscle fibers while also reducing unwanted fat. To determine which procedure is best for you, it is best to schedule a consultation with one of our experts.
3. MICRONEEDLING + PRP
Microneedling + PRP uses your skin's natural properties to repair the damaged tissues, allowing it to look its very best. It involves using your blood sample and spinning it to get platelet rich plasma that you can combine with microneedling to the desired treatment area.
This microneedling process results in producing thousands of mini-injuries. These small wounds cause your body to make more collagen and elastin (also known as collagen induction therapy). As your skin heals after the procedure, you will get better-looking, more youthful, and smoother skin. This treatment is perfect for all skin types and is effective against wrinkles, acne scars, fine lines, and more.
ABOUT NUVEAU PLASTIC SURGERY & MEDICAL AESTHETICS
Finding a reliable plastic surgeon in Houston is a must when discussing which of the above-mentioned treatments is best for you. At Nuveau Plastic Surgery, we offer a full range of services, including facelifts, rhinoplasty, breast augmentation and lifts, liposuction, Brazilian butt lift, mommy makeovers, and injectables. Our team of experts includes Dr. Edward Lee, a highly trained board-certified plastic and reconstructive surgeon. With offices in Houston, we aim to make all our patients feel comfortable, confident, and at ease. Contact us at 713-999-1321 or schedule an appointment for more information.