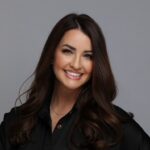 Erica Carini, RN
Aesthetic Injector
Erica Carini was born and raised in Houston, Texas where she finished her nursing degree in 2010 from Lone Star College and worked as a registered nurse in heart disease and infectious diseases. She then joined a successful plastic surgery office where she worked for 8 years, mastering the art of aesthetic medicine. She is experienced with many of the most popular non-surgical aesthetic enhancement procedures available. She has extensive experience in injectables, having trained and learned in a busy plastic surgery office. She has an excellent knowledge of facial anatomy as well as a deep understanding of the natural age-related changes of the face and body.
She now joins the Nuveau Plastic Surgery team, bringing with her a great enthusiasm for aiding patients in their transformations. Erica's additional training and credentials enable her to perform a vast selection of treatments that are custom-designed to effectively renew one's appearance with results that look both beautiful and natural.
When Erica is not working she enjoys cooking, spinning, arranging flowers, and spending time with her husband and two kids.