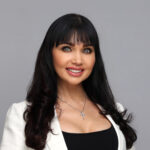 Elena Riley, LMA, CLT
Medical Esthetician / Laser Specialist
Born in Vladivostok, Russia. Elena led an international life: from Russia to South Korea, Japan, to cities and towns throughout Texas. Has  an excellent taste in  French and Asian cuisine . She has experienced a variety of lifestyles and backgrounds to develop her eye for the beauty and aesthetics.
Elena has graduated with a degree in business management , work four years in the real estate and then in the oil and gas business,  but her love and knack for all things beauty and fashion that led her to enroll in Aesthetic school.
Elena uses her inspiration of the diversity and motivation of the people she has met in Houston when she moved here in 2009, as well as her love for  the beauty and medical field.
Elena is detail- oriented and organized individual who exemplifies professionalism and demonstrated history of  providing excellent customer service.
After ten plus years in the medical Aesthetic field, she built a reputation for her expert hand, eye for details, warm and friendly personality.