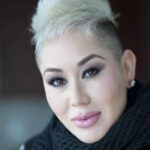 Beatrice Zarco
Patient & Surgery Coordinator
A name and style you won't soon forget. You may have met her when she owned Vanity Lounge by Zarco in River Oaks Texas or when she partnered with Kalologie Med Spa in Sugarland. You may have also met her while she was a National/International Educator for PCA SKIN in Scottsdale Arizona. Zarco developed a department within her department with PCA SKIN'S Spanish Partnerships. Here she focused on Business Consulting, Product Knowledge, Sales and Education. Zarco lead this department by translating all Marketing/Education Material from English to Spanish. Conducting live seminars in Spanish Nationwide and Internationally.
The fashionable beauty guru hails from California, with her eponymous hard work, grit, dedication, passion & drive she is now back in Houston providing Houstonians with the same customized aesthetics, makeup, Laser & skincare treatments she perfected on celebrity clients in Los Angeles, Miami, Dallas, Austin, Houston, New York, Arizona and San Francisco.
In 2013, Zarco left Arizona after being presented with an opportunity she could not refuse from skincare/business & owner/expert Ann Webb in Austin Texas. Not so long after her internship and becoming a Certified Aesthetics Instructor she moved to Houston to pursue her dream of owning her very own business Vanity Lounge by Zarco in one of the most prestigious areas of Houston TX. Zarco will tell you God brought her to Houston and placed angels in her life, blessing her with a dream she never thought would be possible.
We are excited to have Zarco join us at Nuveau Plastic Surgery as our Patient and Surgery Coordinator. She brings with her many years of experience and her passion for helping others look their best.