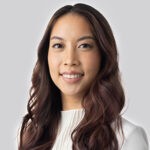 Winifred Tung Davis, PA-C
Physician Assistant
Winifred is a Physician Assistant at Nuveau Plastic Surgery. She grew up in California but eventually moved to Texas to study Biochemistry and Business at Rice University. Upon graduation, she worked at a Parkinson clinic in Los Gatos, California where she learned both medical and administrative skills needed to coordinate patient care. Eventually, she moved to Connecticut for her Master of Medical Science degree at the Yale Physician Associate Program. During her time at Yale, she quickly developed a love for surgery and found plastic surgery to be the most exciting subspecialty with its wide variety of procedures and its art of combining both cosmetic and medical goals of care. She assisted in many craniofacial and reconstructive plastic surgery cases with world-renowned and well-regarded plastic surgeons.
She is excited to be a part of the Nuveau team where she aims to help re-shape and mold patient features in ways that will empower patients to feel more confident and love their bodies just a touch more – all while retaining a natural look.
Outside of work, Winifred is involved in her local church (Grace Bible Church) and loves to find ways to give back to her community. She has also participated in medical mission trips in Asia and would love to continue giving back as a plastic surgery PA.