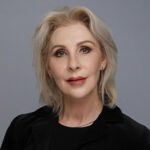 Joanna Mendez, NP
Aesthetic Injector
Joanna is originally from Poland but has lived in Houston for over 20 years.
She earned my BSN degree with the highest honors from the University of Texas-Houston Health Science Center School of Nursing (UTHHSC SON) in 2003. She worked in the Cardiovascular Intensive Care Units of the Methodist Hospital and the Texas Children's Hospital for eleven years. Working with critically ill children was most rewarding and instilled in her an attention to detail, patience, determination, perseverance and gratitude.
In December of 2015, She graduated from the UTHHSC SON with her Family Nurse Practitioner degree with highest honors and received the MSN Faculty of Excellence Award. In 2016, She joined Refresh Dermatology where she worked for two years specializing in cosmetic dermatology. She has always had a passion for Aesthetics. In July of 2018, She joined Nuveau Plastic Surgery and Medical Aesthetics where she will continue to pursue my passion of helping others to look and feel their best.
Her approach is to treat everyone with kindness and respect and always strive to achieve excellence by fulfilling each individual patient's hopes and desires for self-improvement. Even though we do not cure any medical conditions in the field of aesthetic medicine, the ability to improve people's lives and self-esteem is real and she never takes that for granted.
In Joanna's private life, she feels blessed with a wonderful family, which includes her loving and supportive husband Joe and two incredible children, Annabella and Luke.
Her interests include aesthetics, anti-aging medicine and skin care, healthy nutrition, fashion, classical music and modern art. In her free time she enjoys spending time with her family and friends, taking her children on traveling adventures, meeting new people, visiting museums and art exhibitions and exercising.